Product Description
Anhydrous Citric Acid 99.5% CAS NO.77-92-9
Description
Citric acid is also called citric acid, and its chemical name is 2-hydroxypropane-1,2,3-tricarboxylic acid. According to the different
water content, it is divided into monohydrated citric acid and anhydrous citric acid.
At room temperature, citric acid is colorless translucent crystals or white particles or white crystalline powder, odorless and very acidic,
It can exist in the form of anhydrate or monohydrate: when citric acid crystallizes from hot water, it forms anhydrate; when crystallized in cold water, it forms a monohydrate. When heated to 78°C, the monohydrate will decompose to obtain anhydrate. At 15 ℃, citric acid can also be dissolved in absolute ethanol.The simplified structure is shown in the figure. The density is 1.542g/cm3, the melting point is 153℃ (water loss), and the decomposition above 175℃ releases water and carbon dioxide. Citric acid is easily soluble in water and ethanol. The solubility (w/w) at 20°C is 59%, and the pH of its 2% aqueous solution is 2.1. The crystalline form of citric acid is different due to different crystallization conditions. It is slightly weathered in dry air and hygroscopic in humid air. It can be decomposed into various products by heating and can react with acids, alkalis, glycerin, etc.
Specification
| | | |
| --- | --- | --- |
| Name | Citric Acid Anhydrous | Citric Acid Monohydrate |
| Appearance | Colourless or White crystalline powder | Colourless or White crystalline powder |
| Chemical formula | C6H8O7 | C6H8O7·H20 |
| CAS No. | 77-92-9 | 5949-29-1 |
| EINECS No. | 201-069-1 | 201-069-1 |
| Molecular weight | 192.1 | 210.14 |
| Model number | BP98/E330/USP24/FCC | BP93/BP98/E330/USP24/FCC |
| Packing | In 25KG composite paper-plastic bags | In 25KG composite paper-plastic bags |
| Name | Citric Acid Anhydrous | Citric Acid Monohydrate |
| Item | Standard | Standard |
| Assay, % | 99.5-100.5 | - |
| Purity, % | - | 99.5-101.5 |
| Sulphate, ppm | 150 Max | 150 Max |
| Oxalate, ppm | 100 Max | 100 Max |
| Calcium, ppm | 200 Max | - |
| Heavy metals, ppm | 5 Max | 5 Max |
| Iron, ppm | 50 Max | - |
| Chloride, ppm | 50 Max | - |
| Sulphated ash, ppm | 0.1 Max | 0.05 Max |
| Barium | Pass | Pass |
| Bacterial endotoxin, IU/mg | 0.5 Max | 0.5 Max |
| Aluminium, ppm | 0.2 Max | 0.2 Max |
| Lead, ppm | 1 Max | 0.5 Max |
| Moisture, % | 0.5 Max | 7.5-8.8 |
| Mercury, ppm | 1max | 1max |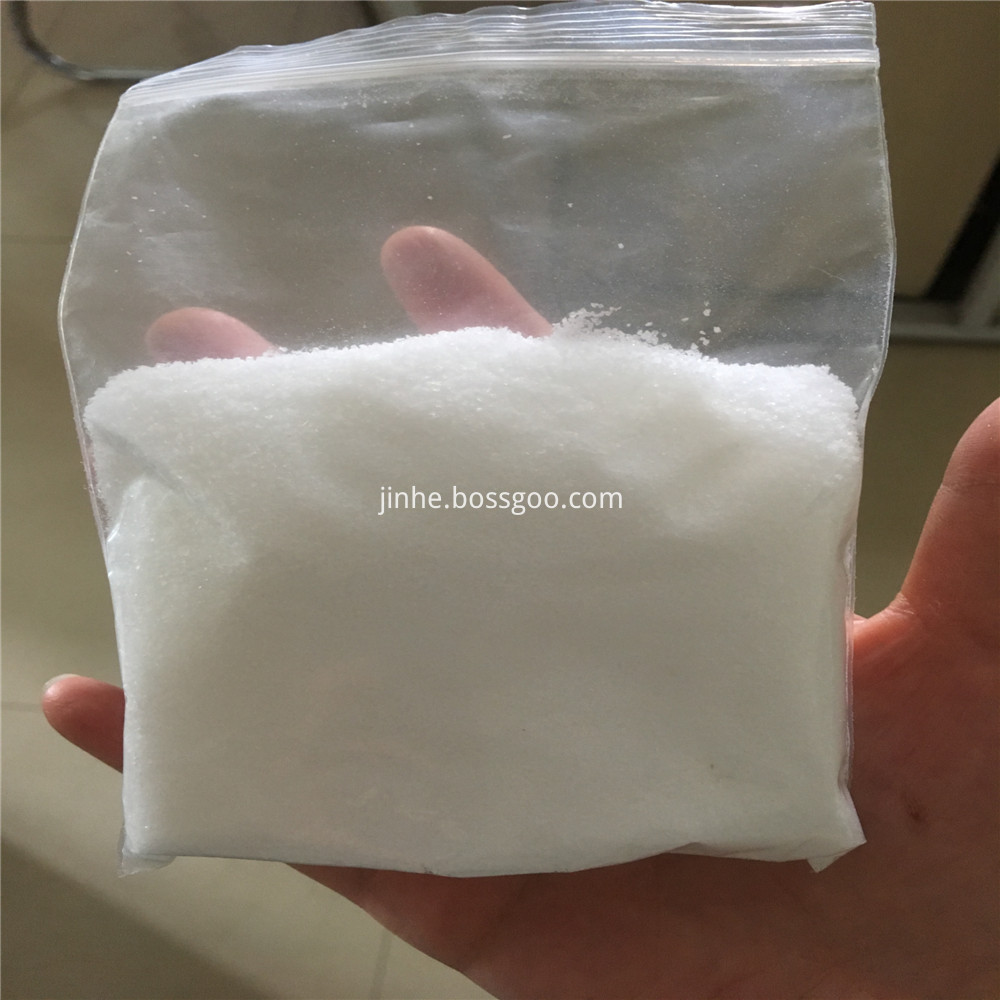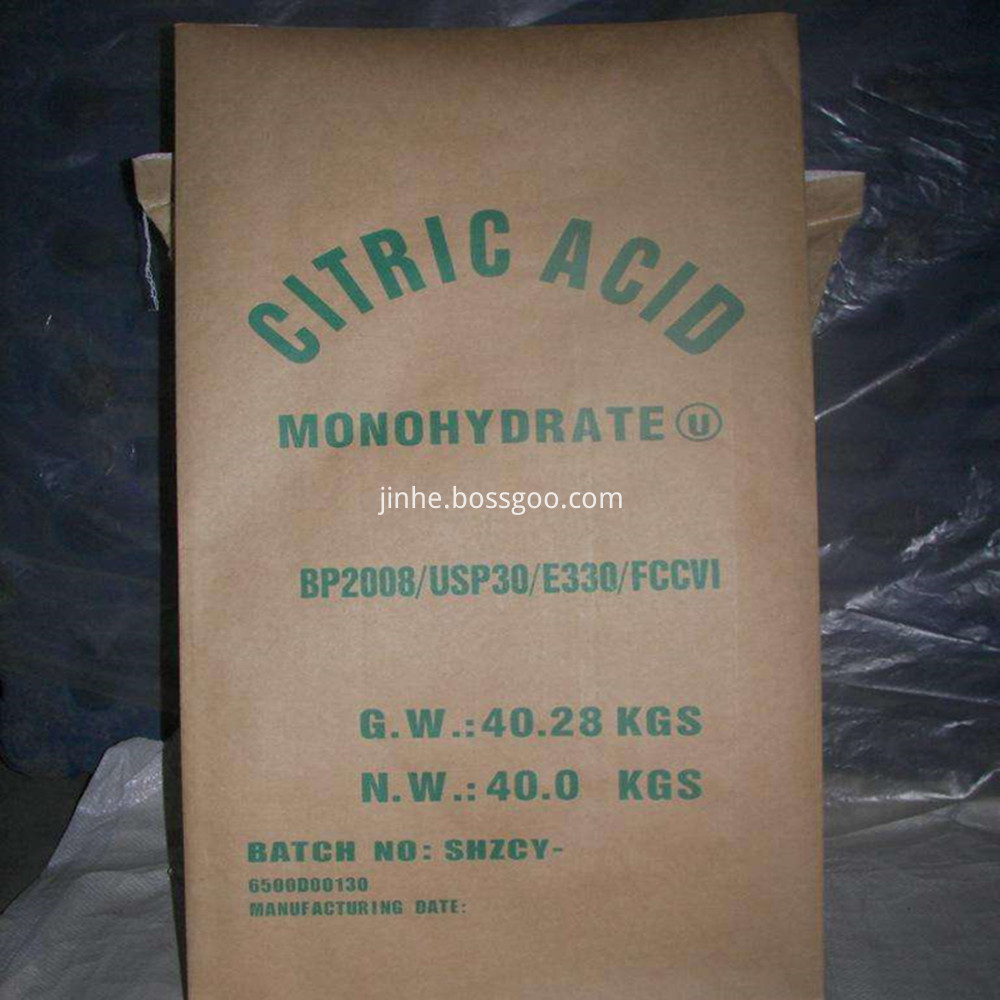 Usage:
1.For the food industry
Because citric acid has a mild and sour acidity, it is commonly used in the manufacture of various beverages, sodas, wines, candies, snacks, biscuits, canned juices, dairy products and the like. In the market of all organic acids, citric acid market share of more than 70%, flavoring agents, can also be used as antioxidants in edible oils. At the same time improve the sensory traits of food, enhance appetite and promote the digestion and absorption of calcium and phosphorus substances in the body. Anhydrous citric acid is used in large quantities in solid beverages Salts of citric acid such as calcium citrate and ferric citrate are fortifiers that require the addition of calcium and iron ions in certain foods.

2.Used in the chemical and textile industries
Citric acid can be used as a chemical analysis reagent for chemical analysis, as an experimental reagent, a chromatographic reagent and a biochemical reagent; as a complexing agent and a masking agent; for preparing a buffer solution. The use of citric acid or citrate as a builder can improve the performance of the washing product, can quickly precipitate metal ions, prevent the re-attachment of contaminants on the fabric, maintain the necessary alkalinity for washing, and disperse and suspend the dirt and ash; Improves the performance of surfactants, is an excellent chelating agent; can be used as an acid-resistant reagent for testing architectural ceramic tiles.

3.For environmental protection
Citric acid-sodium citrate buffer is used for flue gas desulfurization.

4.For cosmetics
Citric acid is a kind of fruit acid. Its main function is to accelerate the renewal of keratin. It is often used in lotion, cream, shampoo, whitening products, anti-aging products, acne products. The renewal of keratin helps the exfoliation of melanin in the skin, the shrinkage of pores, the dissolution of blackheads, and the like.
We can also supply Acetic Acid Glacial, Formic Acid, Sodium Formate, Calcium Formate, Oxalic Acid, Phosphoric Acid Food Grade, etc.