Product Description
C5 Hydrocarbon Resin Hot Melt Road Marking Paint



C9 Petroleum Resin
Brief introduction: This product is made by C9 cracking,through catalytic , polymerization .It's a kind of granular solid with color from light yellow to oyster white.It has the properties of good heat stability,intersolubility, viscidity,light stability,water resistance and very good chemical stability over acid and alkali.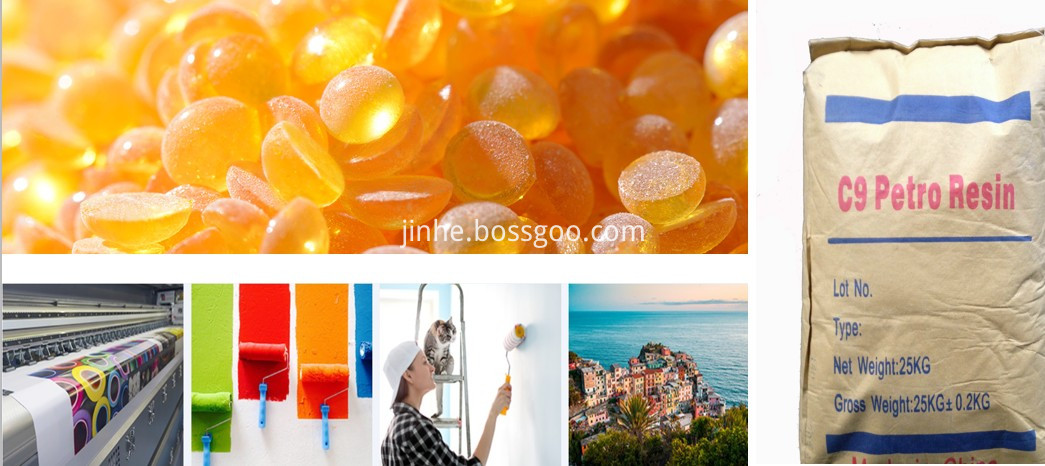 Applications: The product is mainly used as fertilizer in paint, rubber, adhesives, printing ink industries .
Packing, storage and transportation: This product is packed in three-in-one kraft paper.Its net weight is 25kg per sack.The packing can be changed by client's requirements.It can be transported by truck ,train, ship etc.But it must avoid sun-scorched,rain-drenched and damp ,hook.Do not store or transport with alkali or oxidant.This product is a non-dangerous chemical.It should be in ventilated,cool and dry places,for one year storage.
Products Specification:
No.

Item

Index

SP-90

SP-100

SP-110

SP-120

SP-130

SP-140

1

Softening point,℃

80-90

90-100

100-110

110-120

120-130

130-140

2

Color,(Ga#)

5-10

5-10

5-10

5-10

5-10

5-10

3

Acid value, mgKOH/g

≤

0.3

0.3

0.3

0.3

0.3

0.3

4

Bromine value,g/100g

≤

35

35

35

35

35

35

5

Density(20℃),g/cm3

0.99-1.03

0.99-1.03

0.99-1.03

0.99-1.03

0.99-1.03

0.99-1.03

6

Ash,% ≤

0.04

0.04

0.04

0.04

0.04

0.04
C5 Petroleum Resin
Brief Introduction:petroleum resin is a low molecular weight aliphatic hydrocarbon resin that has been designed for hot melt road marking systems, This resins show outstanding affinity for pigments and superior processability in the hot melt road marking application. It will remain stable all round the year by adding additive.
Features of Hot Melt Road Marking:
◆ Light color
◆ Good fluidity
◆ Good abrasion performance
◆ Speedy desiccation
◆ Good color stability
◆ Good in other performances such as even dispersion, no settlement, weather-proff,smudge resistance,adhesion Product Application Field:
◆ Hot Melt Road Marking Test Metod:
Product specifications were developed pursuant to Jinhe Testing and sampling procedures, some of which are equiv-alent to industry standard test methods. Applicable sampling and testing mothods subject to change without notice and available for review on request.
Apperance: eyeballing
Softening point: Proceed in accordance with GB/T 4507-1999
Color:sample resin and toluene(weight:1:1) , in accordance with GB/T1722-1992 Determination of ash:in accordance with GB/T 2295-1980
Iodine Value:In accordance with mormative appendix Acid Value:In accordance with GB/T 2895-1982(1989) Melt Viscosity:In accordance with HG/T 3660-1999
Insolubles in benzene:mix as per product:benzene=3:7(weight ) C5 Petroleum resin
If you have demand for Pigment & Resin, Such as Petroleum Resin, Pvc Resin, Pet Resin, Pvb Resin, Carbomer, Coumarone Resin, pls contact me freely in 24/7.