Product Description
Product Name: Iron Oxide Red F120
Type: F110, 110B, Y101, F120, 130S, 130R, 130A, 140, 190, 180
Our Company is also into manufacturing and marketing high quality Iron Oxide Flooring Colours, Wall putty, Tile Adhesive, Cement paints, Tile grout, Red Oxide Primer and Carbon Black . We cater to both domestic as well as export market, where our name is associated with "Jinhe Quality". We have certain specific grades of Pigments &Dyes, which nobody else is able to match or manufacture. We have manufacturing facilities at Middle of China.

Molecular Formula

Fe2O3

Chemical class

Synthetic Iron Oxide F120

Mode

F110, 110B, Y101, F120, 130S, 130R, 130A, 140, 190, 180

Standard

GB/T 1863-2008

CAS (CAS Number)

1309-37-1

HS Code

2821100000

Delivery Form

Powder

Description

Iron Oxide Red has excellent physical and chemical properties. It is a non-toxic environment-friendly pigment with strong covering power, high tinting strength, soft color, stable performance, alkali-resistant ability, a certain degree of stability towards weak acid and dilute acid and high performance in light resistance and weather fastness. It is insoluble in water and has excellent anti-rust and UV protection functions.

Specification

Items

Data

Water-soluble content[%] ≦

0.3

Sieve residue(0.045mm sieve )[%] ≦

0.1

PH value

5~7

Fe2O3 content ≧

96

Loss on ignition at 1000℃,0.5h[%] ≦

5

Volatile Matter at 105℃[%] ≦

1.0

Moisture content(after production)[%] ≦

0.5

Particle shape

spherical

Predominant Particle size[μm]

0.09

Oil absorption[g/100g]

15~25

Tamped density[g/ml]

0.7~1.1

Density[g/ml]

5.0

Tinting strength

95~105

Aberration(ΔE)% ≦

1.0

Applications

It is widely used for the coloring of paint, rubber, plastics, building materials, ceramics and enamels, precision metal instruments, optical glass, stationery, leather, magnetic alloys and advanced alloy steel.

Packaging Format

The product is available in compound kraft bag or PP bag.

Storage

Protect against weathering. Store in a dry place and avoid extreme fluctuations in temperature. Close bags after use to avoid absorption of moisture and contamination.

Safety

The product is not classified as dangerous under the relevant EC Directives and it's not dangerous goods according to transport regulations.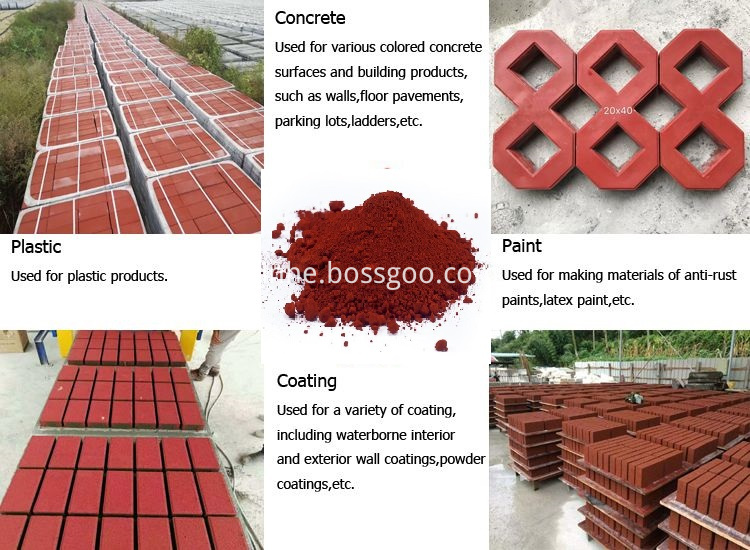 We are Inorganic Pigments Manufacturer since 1998, Our main product of Pigments&Dye are Titanium Dioxide, Iron Oxide, Carbon Black, Chrome Yellow, Chrome Green. Besides, we can also supply cooperatived factory whom making Detergent products, such as Sodium Tripolyphosphate and Sodium Hexametaphosphate.
Pls contact us in 24/7 if you interest.