Product Description
PET Resin I.V 0.8 For Hot Filled Bottle
| | |
| --- | --- |
| Product name | Polyethylene Terephthalate |
| Molecular Formula | (C10H8O4)n |
| CAS NO.: | 25038-59-9 |
| HS Code | 3907619000 |
PET in its natural state is a colorless, semi-crystalline resin. Based on how it is processed, PET can be semi-rigid to rigid, and it is very lightweight. It makes a good gas and fair moisture barrier, as well as a good barrier to alcohol (requires additional "barrier" treatment) and solvents. It is strong and impact-resistant. PET becomes white when exposed to chloroform and also certain other chemicals such as toluene.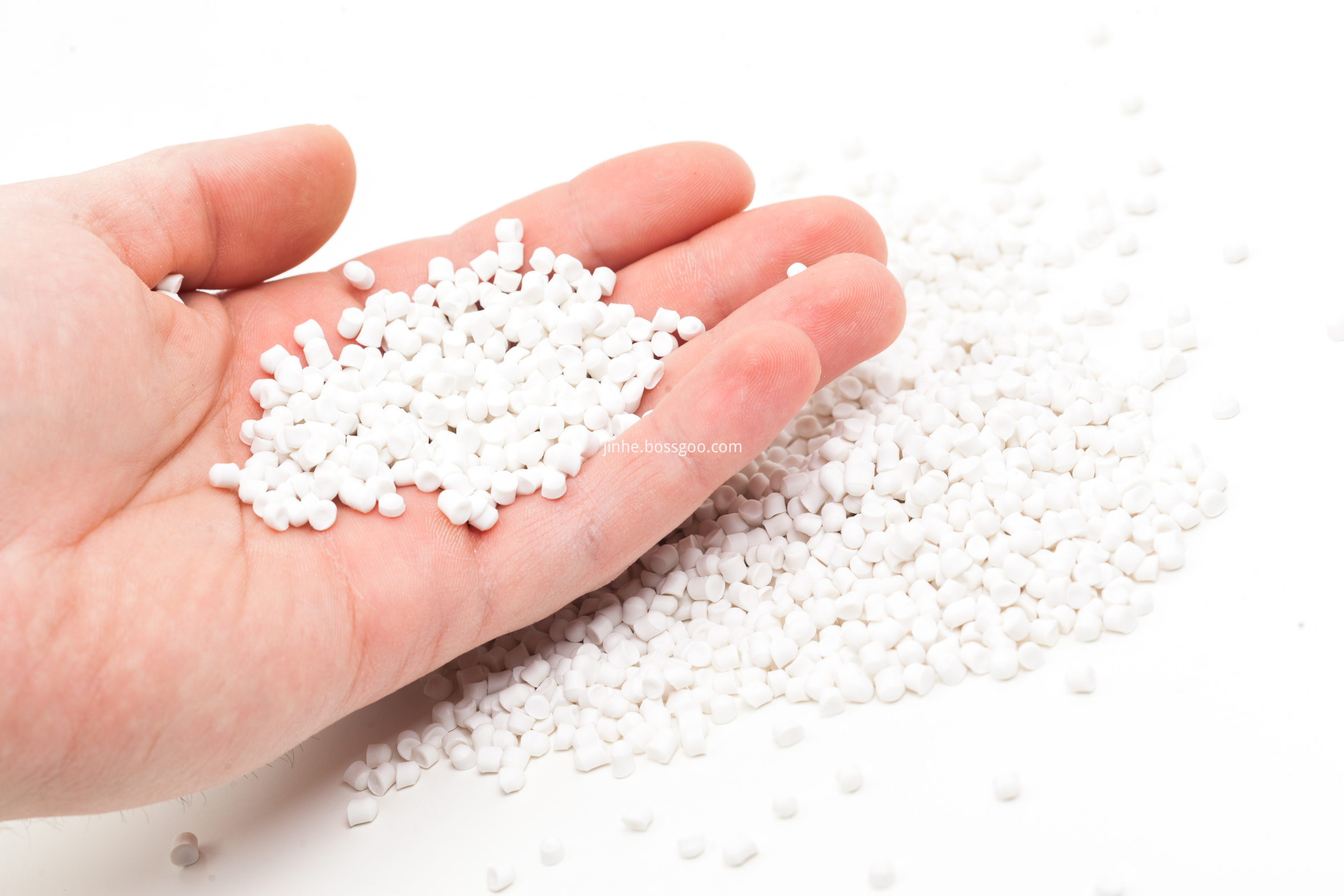 The majority of the world's PET production is for synthetic fibres (in excess of 60%), with bottle production accounting for about 30% of global demand. In the context of textile applications, PET is referred to by its common name, polyester, whereas the acronym PET is generally used in relation to packaging. Polyester makes up about 18% of world polymer production and is the fourth-most-produced polymer after polyethylene (PE), polypropylene (PP) and polyvinyl chloride (PVC).
About 60% crystallization is the upper limit for commercial products, with the exception of polyester fibers. Clear products can be produced by rapidly cooling molten polymer below Tg glass transition temperature to form an amorphous solid. Like glass, amorphous PET forms when its molecules are not given enough time to arrange themselves in an orderly, crystalline fashion as the melt is cooled. At room temperature the molecules are frozen in place, but, if enough heat energy is put back into them by heating above Tg, they begin to move again, allowing crystals to nucleate and grow. This procedure is known as solid-state crystallization.
Polyethylene Terephthalate (PET) Resin Market, Volume Share (%), by Country, Europe, 2019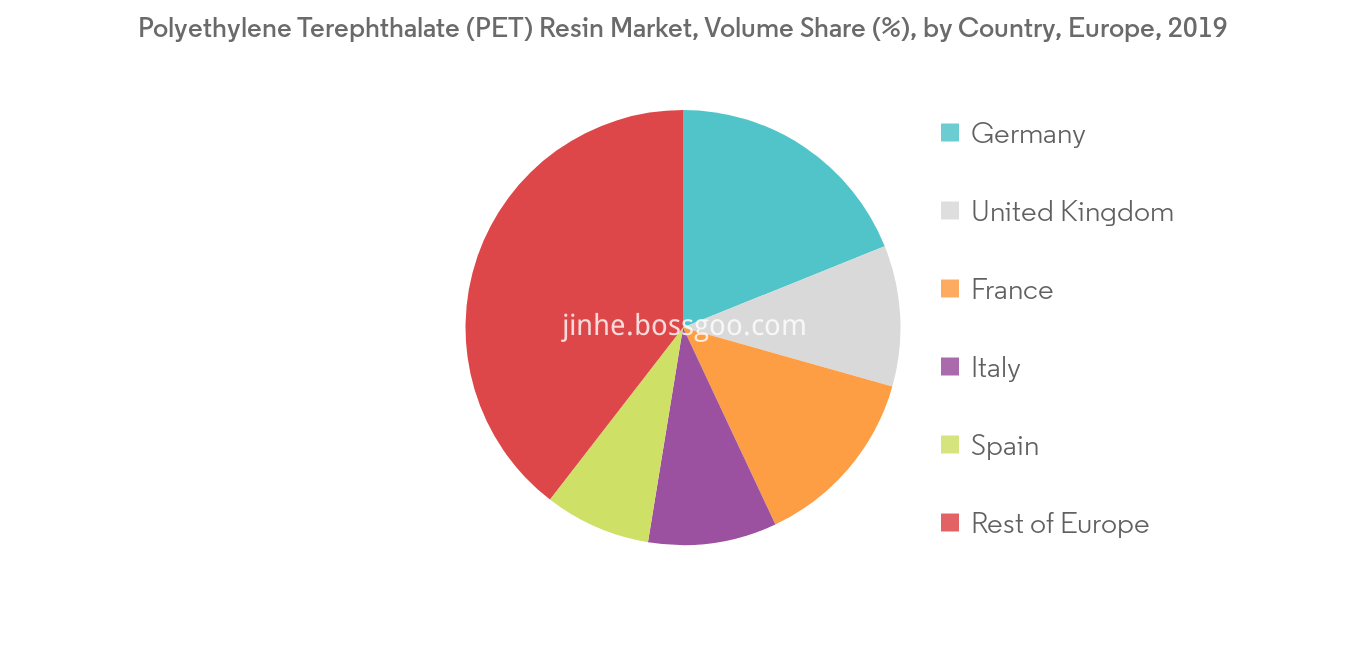 One of the most important characteristics of PET is referred to as intrinsic viscosity (IV).
The intrinsic viscosity of the material, found by extrapolating to zero concentration of relative viscosity to concentration which is measured in deciliters per gram (dℓ/g). Intrinsic viscosity is dependent upon the length of its polymer chains but has no units due to being extrapolated to zero concentration. The longer the polymer chains the more entanglements between chains and therefore the higher the viscosity. The average chain length of a particular batch of resin can be controlled during polycondensation.
The intrinsic viscosity range of PET:
Fiber grade:
0.40–0.70 Textile
0.72–0.98 Technical, tire cord
Film grade:
0.60–0.70 BoPET (biaxially oriented PET film)
0.70–1.00 Sheet grade for thermoforming
Bottle grade:
0.70–0.78 Water bottles (flat)
0.78–0.85 Carbonated soft drink grade
Monofilament, engineering plastic
1.00–2.00
Polyethylene terephthalate (sometimes written poly(ethylene terephthalate)), commonly abbreviated PET, PETE, or the obsolete PETP or PET-P, is the most common thermoplastic polymer resin of the polyester family and is used in fibres for clothing, containers for liquids and foods, thermoforming for manufacturing, and in combination with glass fibre for engineering resins.
Polyethylene Terephthalate (PET) Resin Market, Growth Rate by Region, 2020-2025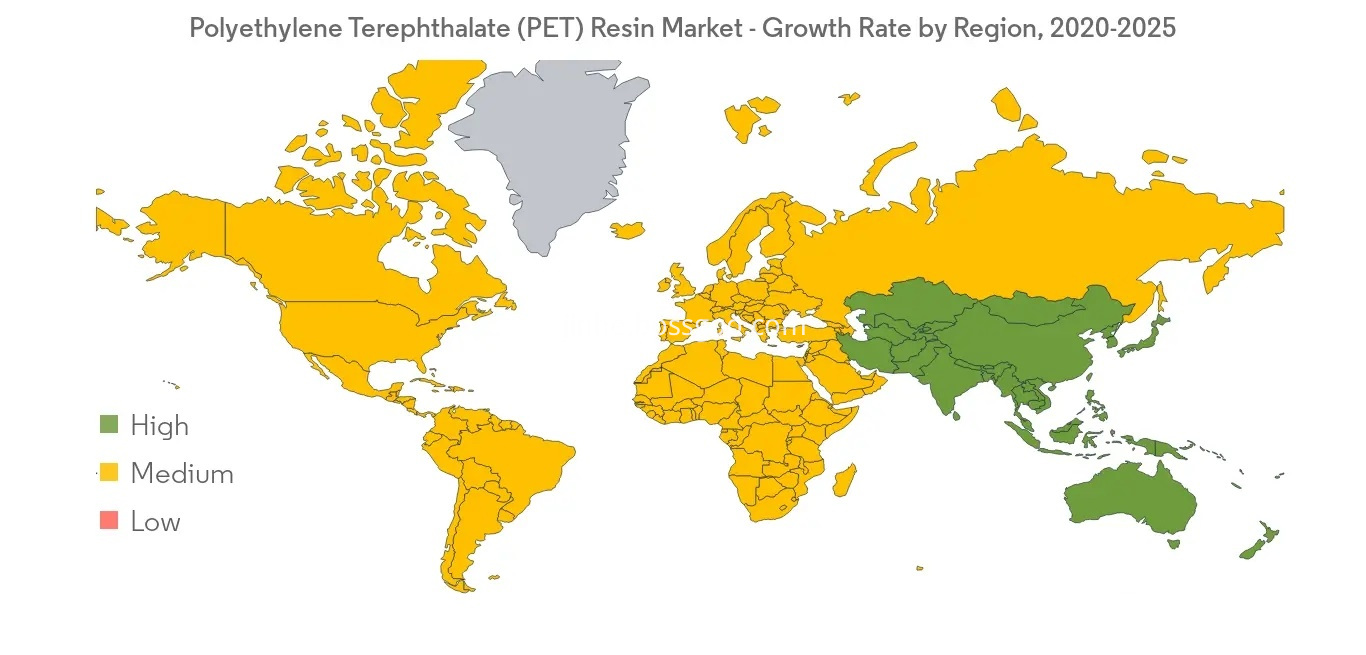 We are specialized in Pigment&Dye, Resin Chemicals, If you have demand for Petroleum Resin, Pvc Resin, Pet Resin, Pvb Resin, Carbomer, Coumarone Resin, pls contact me freely!