Product Description
Rutile Titanium Dioxide For Paint Industry
Titanium dioxide has been used as a bleaching and opacifying agent in porcelain enamels, giving them brightness, hardness, and acid resistance. In modern times it is used in cosmetics, such as in skin care products and sunscreen lotions, with claims that titanium dioxide protects the skin from ultraviolet radiation because of its property to absorb ultraviolet light.
Besides, we also supply Iron oxide,Carbon Black,Chrome Green,Petroleum Resin etc. for different industries,Pigment,Detergent,Plastic,Textile etc.
TECHNICAL DATA SHEET

Product:Titanium Dioxide Rutile General Grade
Molecular Formula: TiO2
CAS NO.: 13463-67-7
M.W.: 79.87
Properties:
White powder,surface treated with Al,non-toxic,easy to disperse. It has high brightness and whiteness,good tint reducing power and covering power.
Specification:
1 TiO2,%(m/m) ≥ 90
2 Color (as compared with reference standard) not lower than
3 Whiteness %min (compared with standard sample) ≥ approximately
4 Tint reducing power (as compared with reference standard) ≥ 105
5 Volatile at 105°C %(m/m) ≤ 1.0
6 Volatile at 105°C after 24h stay at (23±2)°C/RH (50±5)%,%(m/m) ≤ 1.5
7 Water soluble substances,%(m/m) ≤ 0.3
8 pH value of aqueous suspension 6.5-8.0
9 Oil absorption,g/100g ≤ 22
10 Residue on sieve 45μm,%(m/m) ≤ 0.05
11 Resistance of aqueous extract,Ωm ≥ 50
APPLICATIONS
1.aqueous and solvent-based exterior paints, domestic appliance finishes, may be used in electro-deposition paints and coil coatings.
2. polyolefines plastics.
3. High quality paper coatings, waxing stock etc.
4. rubber floorings and natural rubber blend, where highting-reducing power and good lightfastness are requide.
5. leather finishes, cosmetics, soap, textile printing etc.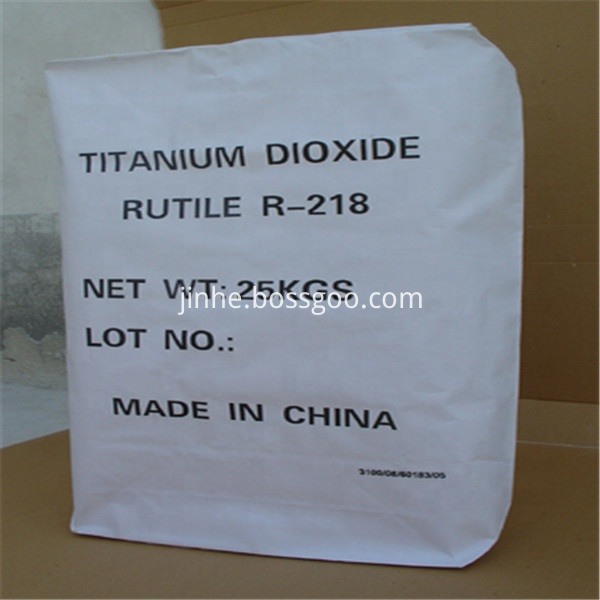 PACKING & TRANSPORTION
25KG, 500KG and1000KG, seaworthy and suitable for container transportation